/content/aerobt/us/en/search.html
Your browser is not supported.
For the best experience, please access this site using the latest version of the following browsers:
Close This Window
By closing this window you acknowledge that your experience on this website may be degraded.
Primus Elite Upgrade Options
Primus Elite Upgrade Options
Cockpit upgrade options for Primus 1000/2000 and selected SPZ-8000 cockpits.
Overview
Resources
Compatible Aircraft
DU-875 / 885 Liquid Crystal Displays
The Honeywell DU-875 / 885 display upgrade replaces old cathode ray tubes (CRT) with modern liquid crystal displays (LCD). Benefits include:
Updates cockpit to latest technology
Brings brighter, clearer, high resolution picture to the pilots; runs cooler, creates less heat in cockpit
Lower cost of operation - increases reliability by 2X and lowers weight by seven pounds per display unit
Very quick "plug and play" display replacement solution – can be done in less than a day – no downtime
Primus Elite Synthetic Vision
Honeywell's Primus Elite Synthetic Vision adds new levels of sophistication and safety enhancements to your cockpit. Synthetic vision realistically depicts the flight path as an easy-to-understand overlay on the primary flight display, just as it would appear out the cockpit windscreen.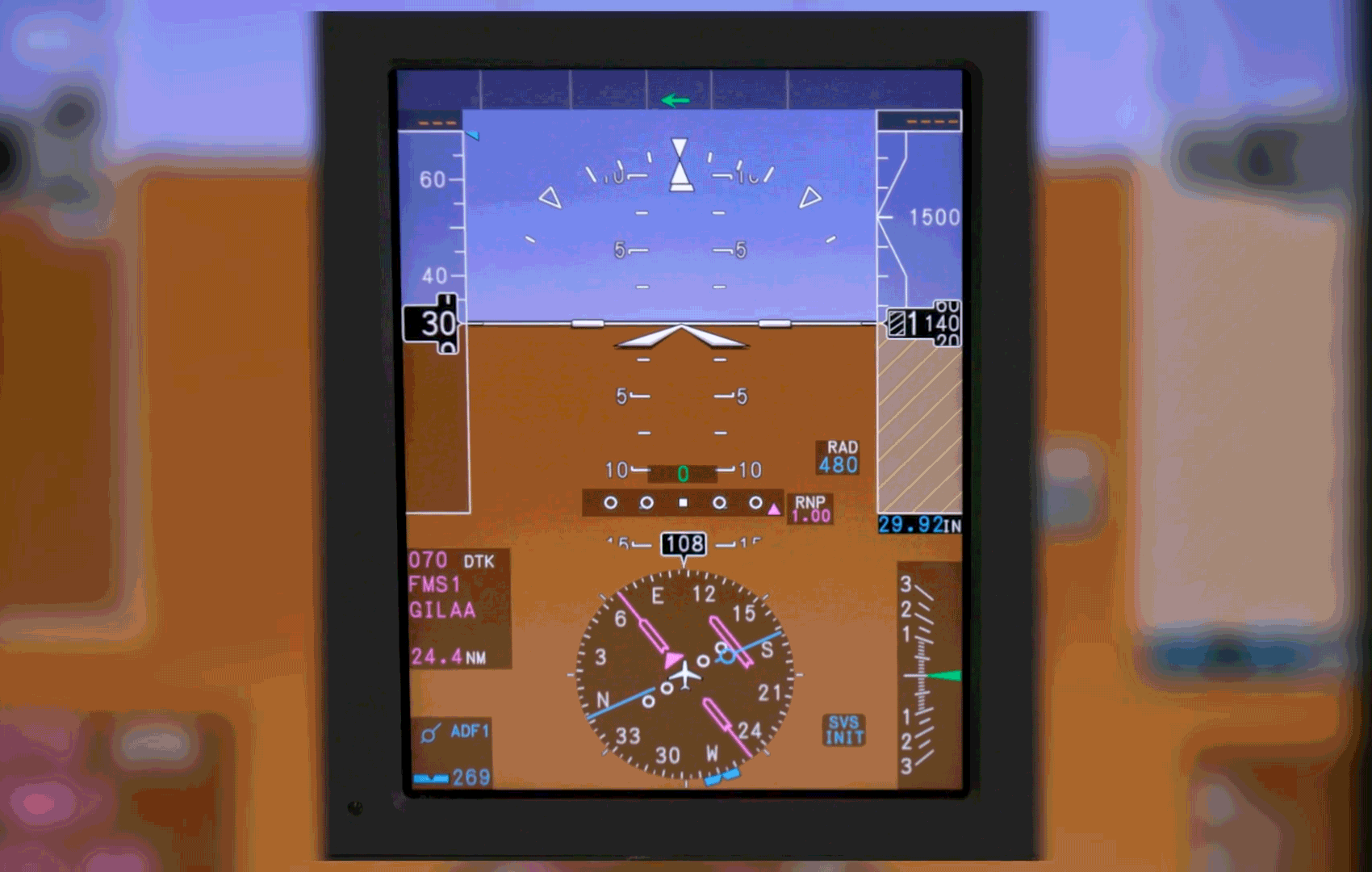 In three dimensions… and in color… no more blue-over-brown!
Primus Elite's fusion of the Enhanced Ground Proximity Warning System database with advanced head-up display symbology provides pilots with an easily interpreted, ambient, natural and continuous view into the flight path environment. And doesn't change the way the pilot uses the primary flight display: All existing flight information and symbology remain intact, but with enhanced overlay of 3D color images of the aircraft's flight path in relation to terrain and obstacles in all visibility conditions.
Performance Features and Benefits Include:
Head-up display symbology helps pilots intuitively understand where the aircraft is going and makes energy management of the airplane natural and easy.
The Flight Path Symbol makes it easier for the pilot to directly and accurately control the aircraft's flight path without having to guess at the proper pitch attitude to maintain.
An acceleration chevron provides instant feedback on the aircraft's energy state to maintain the proper altitude, speed and flight path.
The dynamic speed cue helps pilots maintain approach speed by indicating a reference speed in real time for any aircraft weight and configuration.
Track-based Centering keeps primary symbology within the flight path (runways, potentially conflicting terrain/obstacles, etc.) centered within the primary flight display to maximize pilot attention.
Range rings provide the pilot accurate distance, motion and ground closure cues that are easily interpreted.
Obstacle display enhances the pilot's situational awareness.
Runway markings – center line, runway numbering and distance remaining markers present a realistic airport environment and prevent runway incursions.
Advanced unusual attitude declutter fades the terrain away when the aircraft is in an unusual attitude, allowing pilots to concentrate on the task of returning to steady and level flight.
Airport charts for visual awareness on the runway and taxiways.
Approach charts for graphical depiction of aircraft position during approach.
Integrated map for 2D depiction of flight plan, weather, traffic and geographical boundaries.
Optional XM Weather for real-time weather updates along the route and at destination, alternate airports, etc.
The Honeywell DU-875 LCD Display One-for-One Upgrade
Primus Elite Synthetic Vision Incentives for F900 EX-C Operators
Primus Elite 875 885 Display Upgrades
The Honeywell DU-875 LCD Display One-for-One Upgrade
List of certified aircraft and Supplemental Type Certificates
(1)
List of certified aircraft and Supplemental Type Certificates
(1)
Size
Please fill in the form if you would like to be contacted by the sales team.