/content/aerobt/us/en/search.html
Your browser is not supported.
For the best experience, please access this site using the latest version of the following browsers:
Close This Window
By closing this window you acknowledge that your experience on this website may be degraded.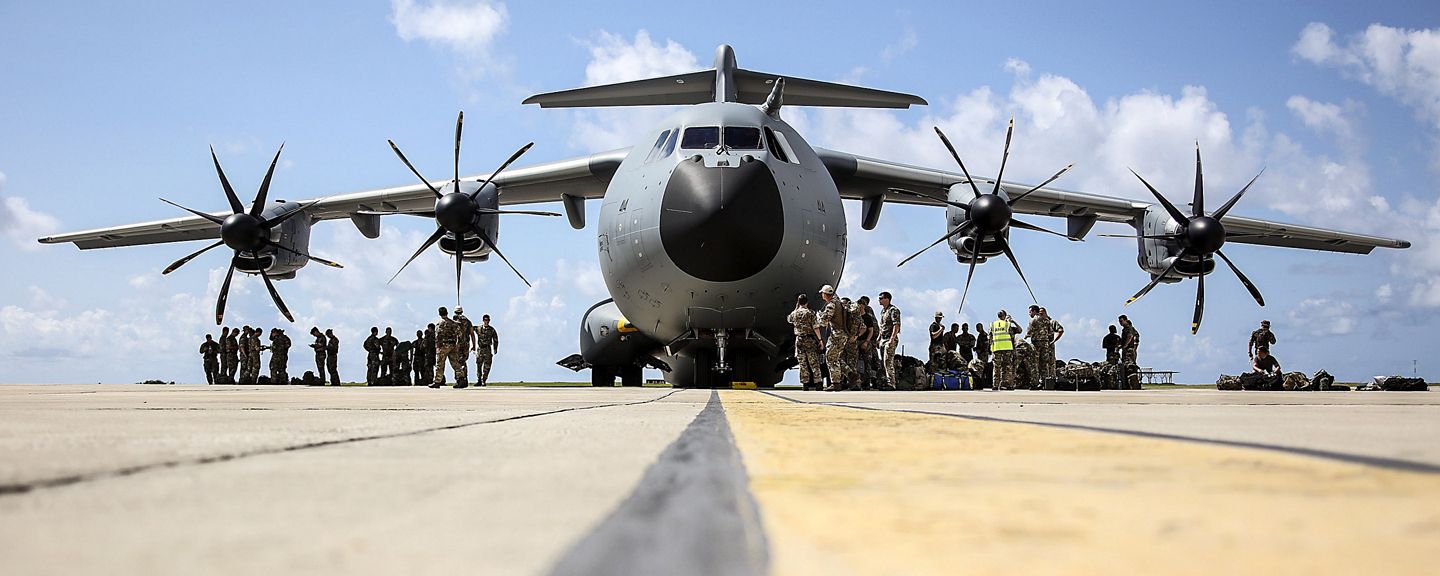 When Your Mission Relies On Being Ready For Anything, You Can Rely On Us
During times of crisis, it is more important than ever to ensure your fleet is mission-ready. Militaries around the world have increasingly been relied upon in the fight against covid-19, a very different battle to anything that may have been anticipated. Yet many of the principles of planning remain the same. At a time when assets may be called upon at any time, the ability to keep those assets ready to fly is of the utmost importance.
At Honeywell, we are right alongside our customers during these difficult times, and as such we have a variety of products and services all designed to keep aircraft where they need to be right now, up in the sky. Explore and find out more about our solutions to keep you mission-ready.
ebook
Download our E-book on mission readiness
Blog Article
Answering the Call of Duty
Here in the United Kingdom, our military personnel have supported the Government and the National Health Service through the distribution of PPE and the creation of the Nightingale Hospitals in London and other major metropolitan centers.
Book a briefing with a member of our team to learn how Honeywell systems can help your fleet stay mission ready.
Upgrades – Transport Aircraft
Upgrades – Helicopters
Maintenance, Repair and Overhaul
Connectivity
We have a vast range of drop-fit retrofits, modifications and upgrades, which mean that you can invest in modernizing your fleet, increasing efficiency and reliability during scheduled routine service intervals. Less time on the ground – more time in the air.
Transport Aircraft
Our drop-fit upgrades available for transport aircraft include:
Enhanced Ground Proximity Warning System (EGPWS) - Improves situational awareness throughout high workload missions by protecting against Controlled Flight into Terrain (CFIT)
Embedded GPS/INS Upgrade - Provides advanced performance navigation and enhanced velocity performance
Health and Usage Monitoring System (HUMS) - A sensor-based monitoring system that enables Condition-Based Maintenance (CBM) by measuring the health and performance of mission-critical components in aircraft
Traffic Awareness - Provides a greater surveillance range than ETCAS, significantly reducing the risk of collision while meeting current industry mandates for access to civilian airspace
Air Turbine Starter & Control Valve - High reliability, drop-in solution that provides more than 4,500 hours Mean Time Between Unscheduled Removals (MTBUR)
Cooling Turbine - Environmental Control System (ECS) components upgrade provides x2 times increase in cooling turbine reliability
Anti-Ice Valve - Addresses safety concerns of incumbent valve's flow body separation occurrences
MILACAS-XR – Incorporates Change 7.1 logic and hybrid surveillance to provide a greater surveillance range than ETCAS, significantly reducing the risk of collision while meeting current industry mandates for access to civilian airspace.
EGPWS - Compact and easy to install system with low life cycle and maintenance costs. Improves situational awareness throughout high workload missions by protecting against Controlled Flight Into Terrain (CFIT).
TCAS - Significantly reduces the risk of collision in busy skies. Half the weight of previous systems and double the reliability.
Radar Altimeter System - Low probability of intercept/detection and twice the reliability of competing systems
Emergency Locator Transmitter - Portable Survival Emergency Locator Transponder which is automatically activated instantly upon immersion in water
HUMS - Condition based maintenance system that monitors the health of critical aircraft rotating components
Universal Search Light - Fully integrated dual-mode search light design protects gears, ensuring a longer life span and reduced maintenance costs for operators
Our maintenance, repair and overhaul services are designed to ensure our customers can access the products and services they need quickly and easily. We are supporting capability development in region through localization and partnerships with regional industry. This means that our customers have the capability they need at a local level to support their fleet. Making MRO faster, more efficient and helping to reduce downtime.

Honeywell has a range of satellite communications solutions designed to help your aircraft achieve fast, reliable and secure connections for your fleet. Designed to provide mission critical situational awareness, our solutions enable fast and effective transmission of data for informed decision making, no matter the mission.
Our satellite communications hardware and software upgrades deliver enhanced capabilities and unparalleled global coverage across a variety of network solutions for both helicopter and fixed-wing operations.
JetWave:
Providing mission critical connectivity for Defense, JetWave satellite communication system allows users to connect to the Inmarsat Global Xpress (GX), which brings KA-band satellite coverage across the globe. The GX network offers the most extensive global coverage for military airborne operators, including:
Over water
Over non-traditional flight paths
In remote areas
The system provides the warfighter with a constant command and control link.
For the unique environment the military operates within, JetWave and the Inmarsat Global Xpress network can enable a wide variety of mission-critical applications such as:
Real-time weather
Video conferencing
Large file transfer
Encryption capabilities
Inflight briefings
ISR video
Secure communications
JetWave is scalable and configurable for the wide variety of military platforms, with antenna options available for large and small airframes. Regardless of the airframe or its mission, JetWave can provide assured, high-speed, high-bandwidth, and secure connectivity to warfighters when and where they need it.
Aspire 200
A robust and reliable satellite communications system enabling helicopters to connect to SwiftBroadband service, which allows simultaneous voice and data connectivity.
The first solution to mitigate the issue of rotor blades interrupting and slowing communications from helicopters, Aspire 200, with the High Data Rate software upgrade, is faster than any other helicopter connectivity solution available today.
Sign up for our newsletter
To find out more about our mission-ready solutions sign up for our newsletter here, or book a briefing with a member of our team here