/content/aerobt/us/en/search.html
Your browser is not supported.
For the best experience, please access this site using the latest version of the following browsers:
Close This Window
By closing this window you acknowledge that your experience on this website may be degraded.
New Innovations in Helicopter Displays
New Innovations in Helicopter Displays
With the AW139 Phase 8 upgrade announced by Leonardo this year, Honeywell was able to showcase its helicopter flight deck innovations. At the January 2020 Helicopter Association International (HAI) conference in Anaheim, attendees got a close look at the Phase 8 features (along with a flight demonstration for a few lucky ones).
Phase 8 Upgrade
The Phase 8 upgrade offers:
Synthetic Vision System (SVS) SmartView
INAV on the Multifunction Display (MFD)
2-D terrain depiction on the Primary Flight Display (PFD) Horizontal Situation Indicator (HSI)
Custom Approach (CST)
Cursor Control Device (CCD) upgrade
Continued Perf on landing
FMS surface page selections to make helipads available
Upload/download flight plan improvement
Search and rescue (SAR) reduced leg length
This article is the first in a series that takes a closer look at the Honeywell flight deck innovations for helicopters with the AW139 Phase 8 upgrade. This article describes the capabilities and benefits of SVS on the PFD.
Synthetic Vision
Honeywell's helicopter SVS display makes its debut on the Phase 8 PFD (Figure 1).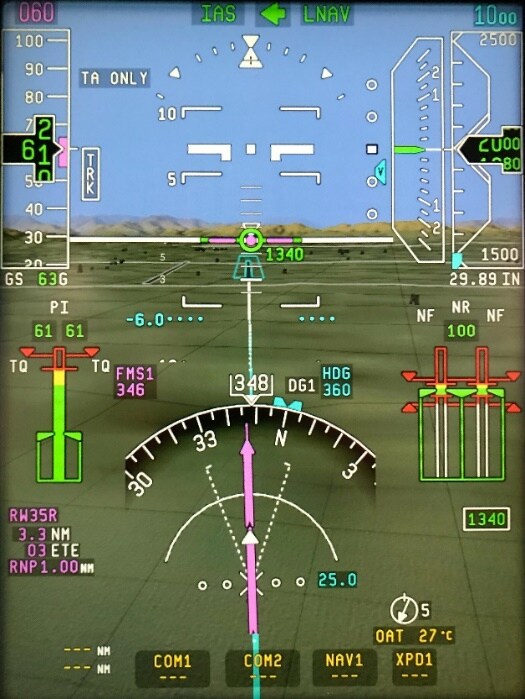 Figure 1: SVS on the PFD
While the synthetic vision display uses Honeywell's well-known worldwide terrain database to render conformal terrain, the AW139 Phase 8 upgrade enables SVS to do something others don't. The SVS displays a track-based view when flying faster, then transitions to a heading-based view when flying slower. Combined with Honeywell's Enhanced Ground Proximity Warning System (EGPWS), the SVS displays the terrain with corresponding alerts and warnings on the PFD, as shown in Figure 2.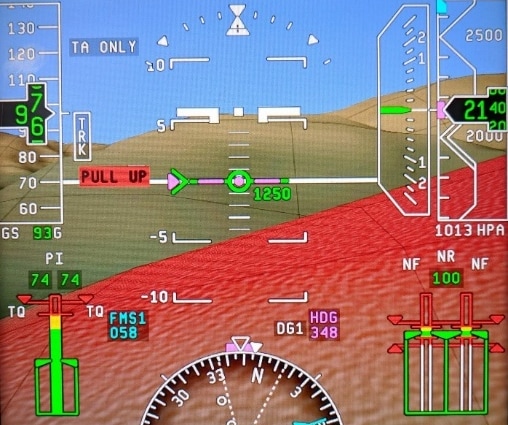 Figure 2: TAWS on the PFD
Figure 2 also shows an expanded pitch scale designed to aid pilots during steep approaches. During a steep approach, the HSI moves to a lower position on the PFD, making more space available for an expanded pitch scale and path angle for improved situational awareness during descent.
During significant crosswinds, a heading-based SVS display may not show all terrain and obstacles on the PFD that are a threat along the current flight path. However, a track-based SVS display can play an important role in situational awareness of obstacles and terrain. The track-based display tells pilots where they are going, not where the aircraft is pointed. A yellow caution or red warning annunciator over terrain or obstacles is designed to get a pilot's attention and allow them to quickly assess threats along the flight path.
Track, Split, and Heading Modes
There are three field of view modes: Track, Split, and Heading. As groundspeed decreases, the SVS display transitions from Track Mode to Heading Mode; this transitional mode is called Split Mode. At even slower groundspeeds, most often associated with movement at a hover, the SVS display changes from Split Mode to Heading Mode. Figure 3 shows the location of the SVS display mode to the right of the speed tape. In this case, TRK (for Track Mode) is displayed.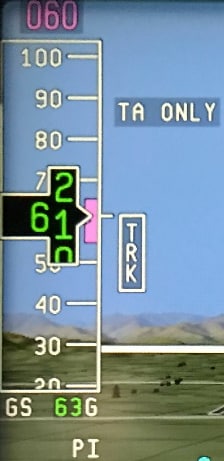 Figure 3: SVS Display Mode Location
When the SVS display is in Track Mode, the Flight Path Symbol (FPS) is displayed (Figure 4), which provides a real-time aircraft trajectory. The FPS is also displayed in the traditional blue-over-brown mode, representing the path of the aircraft.

Figure 4: Flight Path Symbol (FPS)
Grid Lines and Range Rings
The SVS display includes grid lines and range rings to provide a sense of motion and distance. Additionally, the SVS display depicts the true height of all reported obstacles taller than 100 feet. Obstacles begin to fade in 10 nautical miles from the aircraft and are fully displayed once they are within 9.5 nautical miles. Grid lines are regularly spaced semi-transparent black lines overlaying the synthetic terrain. They run north/south and east/west and are spaced approximately 0.4 nautical miles apart. These grid lines follow the contour of the terrain and fade as they extend away from the aircraft viewpoint. Figure 6 shows an example of obstacles and gridlines displayed on the SVS.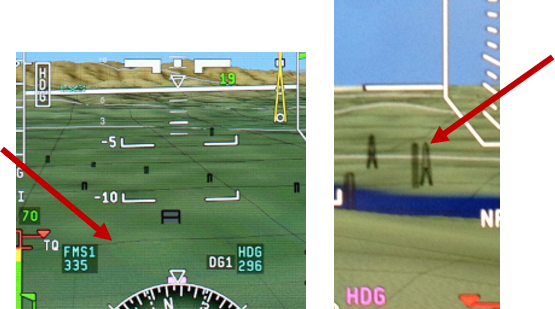 -
Figure 6: Grid Lines and Obstacles
Reduced Workload
With Phase 8 SVS, the focus is on primary flight information and highly accurate alignment/correlation between actual terrain and the synthetic vision display. The realistic terrain graphics use shading, texturing, and fading to provide the pilot with accurately represented terrain and obstacles displayed on the PFD. Coupled with smooth mode transitions and the expanded pitch scale, the Honeywell SVS display will reduce workload and improve situational awareness.
Look for additional articles in this series in future newsletter editions.
---