/content/aerobt/us/en/search.html
Your browser is not supported.
For the best experience, please access this site using the latest version of the following browsers:
Close This Window
By closing this window you acknowledge that your experience on this website may be degraded.
FANS Datalink Update
5 Things to Know About CPDLC-DCL
Controller Pilot Datalink Communications - Departure Clearance (CPDLC-DCL) has been in use in the United States for nearly four years, but questions still arise. This article will clear up some of the confusion around CPDLC-DCL.
1. Not All DCLs Are the Same
There are two different types of datalink DCLs in use today. The first is CPDLC-DCL, which operates using the FANS 1/A network and is only available in the U.S. by using the KUSA logon address. Airports within the U.S. that support CPDLC-DCL highlight this capability in the Data Comm CPDLC box on the airport diagram, as shown in Figure 1.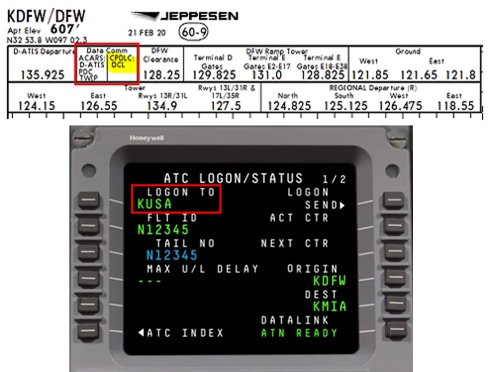 Figure 1. MCDU ATC LOGON/STATUS Page
The second type of DCL is ACARS-DCL, which uses the ARINC 623 functionality of the FMS. ARINC 623 is an ACARS messaging standard that allows direct datalink communication with ATC for specific air traffic service (ATS) functions. This type of clearance is like an ACARS PDC in the U.S. An ACARS-DCL is obtained by using the ATS pages on the MCDU (Figure 2) and should not be confused with CPDLC-DCL. This type of DCL availability is depicted in the ACARS box on the airport diagram and is only used at airports outside the U.S.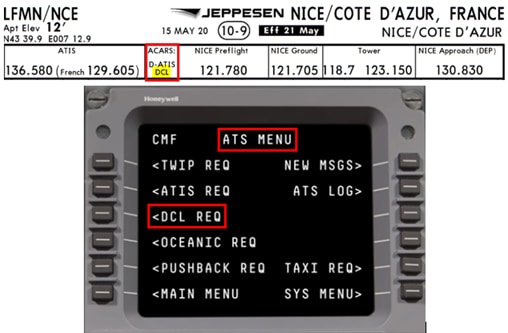 Figure 2. MCDU ATS Pages
2. Prior To Logging On to KUSA…
CPDLC-DCL requires the operator to have a flight plan on file with the relevant equipage codes in field 10a of their ICAO flight plan indicating FANS capability. To specify a preference to receive a DCL, the appropriate delivery preference code is filed in the DAT/ sub-field of block 18. If the relevant DAT/ codes are not present, a logon to KUSA will not be established. This issue is still one of the most common reported for unsuccessful logons. Operators should review the current U.S. Domestic CPDLC-DCL Users Guide for correct filing codes.
Also, it's very important to have the filed flight plan loaded into the FMS active flight plan prior to logging on to KUSA, as shown in Figure 3.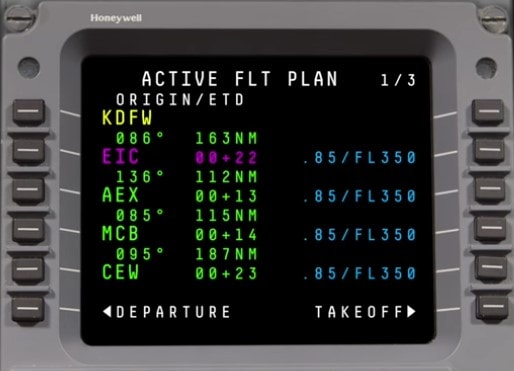 Figure 3. Filed Flight Plan Loaded Into the FMS Active Flight Plan
3. There Are Different Types of Clearance Messages
If the filed flight plan route has been accepted by ATC, a "cleared as filed" DCL message will be received by the crew. All elements of the clearance will be contained in free text, including assigned SID, flight plan route, climb instructions, initial cruise altitude, and squawk code. No loadable portion of the route is needed (or included), since there is no change. This is one reason why it is important to have the filed plan loaded prior to logging on to KUSA. Also note that the REJECT prompt is unavailable with a "cleared as filed" DCL (Figure 4).

Figure 4. Cleared As Filed DCL Message
Route amendments from ATC will either be uplinked as a partial re-route or full route clearance. A partial route clearance will only contain the amendment as a loadable portion of the route (push-to-load). This is the second reason why it is imperative to have the filed flight plan loaded into the FMS prior to logging on to KUSA. The loadable clearance will amend the previously loaded filed plan; if no filed flight plan is entered, the new amended flight plan can't be loaded. The free text element reminds the crew to load the new route (Figure 5).

Figure 5. Reminder to Load the New Route
A full "cleared route clearance" will contain the entire new route as loadable. All fixes prior to the destination airport will be deleted and replaced by the new route when applied (push-to-load). A reminder: SIDs and STARs that are runway-dependent are not included in the loadable portion of the route and must be manually loaded.
4. You Can't Modify a Flight Plan That Is Already Being Modified
If the active flight plan is either in a PEND or MOD state (depending on aircraft platform) (Figure 6), the APPLY / INSERT prompt will not be available for a push-to-load clearance modification (Figure 7).

Figure 6. PEND and MOD Flight Plan Status
&nbsp &nbsp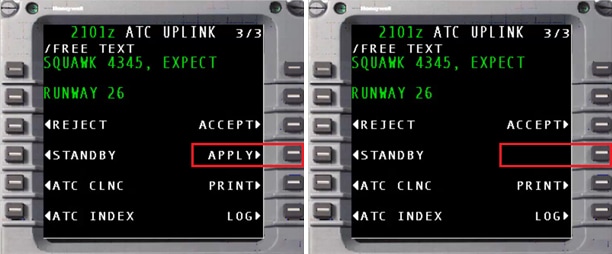 Figure 7. APPLY Prompt
5. CPDLC-DCL Has More Operational Benefits Versus PDC
CPDLC-DCL has many benefits over the old ACARS PDC. DCL allows for "push-to-load" capability of amended departure clearances and multiple revisions to a clearance without having to copy a new clearance via radio and manually update the flight plan. PDC is restricted to only being delivered once per day per airport for an aircraft; once delivered, the clearance must be updated via voice. As mentioned earlier in this article, if an operator does not have the proper ICAO flight plan codes showing CPDLC-DCL as their preference, then a PDC will be issued and the FANS logon to KUSA will not be established, which has caused confusion for many operators attempting to receive a DCL.
For more detailed operational videos and guides on CPDLC-DCL and other datalink systems, operators are encouraged to visit the Virtual Classroom section on the Pilot Gateway.
---
Derek Fiedler supports RNP, Datalink, and Forge Flight Services for Honeywell Flight Technical Services. He can be reached via email at Derek.Fiedler@Honeywell.com.