/content/aerobt/us/en/search.html
Your browser is not supported.
For the best experience, please access this site using the latest version of the following browsers:
Close This Window
By closing this window you acknowledge that your experience on this website may be degraded.
North Atlantic Operations Update
North Atlantic Operations Update
Assigned Speed and Separation Changes
There have been some significant programs put in place this year for operations in the North Atlantic High Level Airspace (NAT HLA). Most have been designed to increase airspace capacity by taking advantage of aircraft avionics capabilities and the availability of satellite-based surveillance to reduce aircraft separation.
The latest changes have seen operators benefit from the flexibility of flying without a fixed Mach speed and the addition of reduced lateral separation as part of an ongoing trial. This article discusses each in detail.
Operation Without an Assigned Fixed Speed (OWAFS)
For several months now, operators in the North Atlantic (NAT) may have received a Controller Pilot Datalink Communication (CPDLC) message stating "RESUME NORMAL SPEED." This message is due to the implementation of Operation Without an Assigned Fixed Speed (OWAFS). The requirement to issue an assigned fixed Mach to all flights in the NAT has been removed, allowing pilots to choose the speed they will fly when given clearance.
OWAFS allows controllers to apply flexible speeds in the NAT as permitted under ICAO Annex 2. Pilots can fly a variable Mach and take advantage of the ECON/Cost Index function of the FMS. Current oceanic CPDLC or voice procedures and oceanic clearance (CLX) procedures will remain unchanged. Operators will continue to file a fixed Mach number in their ICAO flight plan and will receive a fixed Mach in their ACARS oceanic clearance.
After the aircraft enters oceanic airspace, ATC can release the aircraft from the assigned Mach number, if feasible, by transmitting "RESUME NORMAL SPEED" via CPDLC or voice. The flight crew no longer needs to comply with the previously issued Mach. However, pilots need to advise ATC if they intend to adjust their speed by plus or minus 0.02 Mach or more from their last assigned speed. The new Mach number will be put in the free text portion of the CPDLC "WILCO" response if needed. ATC will send a new message (e.g. MAINTAIN M.83) if a speed needs to be re-assigned due to aircraft separation. OWAFS is currently being utilized in New York East, Shanwick, and Santa Maria Flight Information Regions (FIRs). The remaining NAT FIRs will start soon. Operational details are found in NAT OPS Bulletin 2019_001.

CPDLC Uplink Messages for OWAFS
Reduced Separation Trial
Since March 28, 2019, the Advanced Surveillance-Enhanced Procedural Separation (ASEPS) trial has allowed eligible aircraft to see a reduction in longitudinal separation to as close as 14 NM in the Shanwick, Gander, and Santa Maria FIRs. The next phase of the trial allowing lateral separation of 19 NM started October 10, 2019.
As a reminder, no new aircraft equipment is needed for ASEPS, other than having an Automatic Dependent Surveillance - Broadcast (ADS-B) Out 1090 Mhz transponder with a diversity antenna. Diversity transponder antennas are already required for TCAS in Europe. There are no changes to current FANS 1/A CPDLC and Automatic Dependent Surveillance – Contract (ADS-C) procedures for communication and position reporting. ASEPS will use space-based ADS-B for aircraft surveillance. The space-based ADS-B system consists of a constellation of Low Earth Orbit (LEO) satellites hosting ADS-B receivers. The satellites receive existing ADS-B Out data including position, velocity, and altitude from the aircraft, which is then routed through existing satellite and ground networks to air traffic facilities.
Reduced separation is not restricted to any specific tracks or altitudes, just between properly equipped aircraft. For aircraft to be eligible for reduced separation, they must meet the following requirements and have applicable codes filed in the ICAO flight plan:
• Reduced Vertical Separation Minimum (RVSM) / NAT HLA approval
• ADS-B with dedicated 1090 Mhz out capability
• RNP 4 approval
• Performance-Based Communication and Surveillance (PBCS) RCP240 and RSP180 approval
Operators do not have to apply to be in the trial, as compliant aircraft will automatically be participants. The trial will run until November 2020, when a review will take place and a decision will be made whether to implement ASEPS on a permanent basis. Operational details are found in NAT OPS Bulletin 2019_002.
2020 NAT Datalink Mandate
FANS 1/A datalink is currently required between FL350-390 in the NAT HLA. The final phase of the NAT Datalink Mandate (DLM) will still begin January 30, 2020, extending the requirement to be FANS 1/A-equipped from FL290-410 throughout the entire NAT HLA. Aircraft without datalink can request to climb/descend through datalink-mandated airspace, but will only be considered on a tactical basis and will most likely get placed under FL290.
Exempt Airspace
Operators without datalink capability are reminded of the following areas that are exempt from the NAT DLM.
• Airspace north of 80° North (lies outside the reliable service area of geostationary satellites)
• New York Oceanic East flight FIR
• Airspace where an ATS surveillance service is provided by radar, and/or ADS-B (aircraft must be suitably equipped with ADS-B-extended squitter transmitter)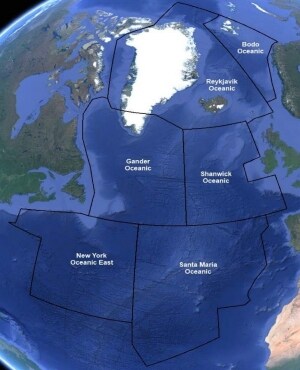 NAT HLA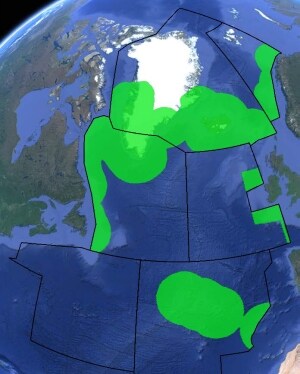 ATS Surveillance Airspace
NAT HLA Approval
All operators need approval from their regulatory authority to fly in the NAT HLA. US operators are required to have FAA Letter of Authorization (LOA) B039. Those operators that still have an older authorization based on Minimum Navigation Performance Specifications (MNPS) have until December 31, 2019, to get their LOA updated if they want to keep flying in the NAT.
The updated LOA aligns with ICAO standards and transitions from the old MNPS to the modern Performance-Based Navigation (PBN) specification.
Details can be found in FAA Notice N 8900.518. The FAA reported back in July 2019 that more than 1,000 part 91 operators have not yet obtained an amended LOA B039.
Please contact Honeywell Flight Technical Services with any questions or operational issues.
Sr. Technical Training Specialist Derek Fiedler supports RNP and Datalink Consultancy Services and GoDirect Flight Services. He can be reached via email at Derek.Fiedler@Honeywell.com.