/content/aerobt/us/en/search.html
Your browser is not supported.
For the best experience, please access this site using the latest version of the following browsers:
Close This Window
By closing this window you acknowledge that your experience on this website may be degraded.
Sikorsky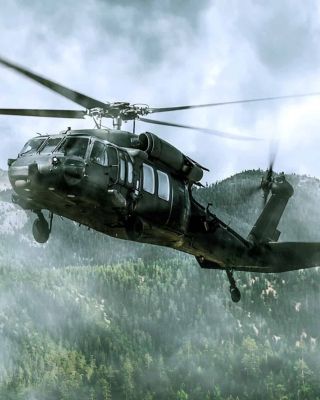 Improve operational readiness, dependability, and safety with Honeywell solutions for the Boeing AH-64 Apache.
The twin-engine H-60 family of helicopter, serves military forces dependably in some of the most extreme conditions found on earth. This versatile and dependable aircraft can support a range of missions, including anti-submarine warfare, anti-surface warfare, naval special warfare insertion, search and rescue, combat search and rescue, vertical replenishment, and medical evacuation.
Today, there are more than 2,300 aircraft in use by 25 nations around the world. Honeywell's standard equipment on this aircraft includes Auxiliary Power Units (APU), Air Turbine Starter and Valve, Radar Altimeter, and Lighting Systems. Additional available Honeywell equipment includes the industry-leading Enhanced Ground Proximity Warning System (EGPWS) to enhance safety for the operator and Health and Usage Monitoring (HUMS) to increase operational efficiency of the aircraft.
Networking the Battlespace
Improve operational readiness, dependability, and safety with Honeywell solutions for the Sikorsky UH-60 Black Hawk.
Honeywell is proud to be a significant content provider for the UH-60 helicopter. From commercial to military missions, our advanced avionics to mechanical systems provide the power to protect and the technology to perform.
Weather Radar
Superior range, ground mapping and weather analysis
Reduces life cycle costs more than four-fold
25% reduction in diversions and earlier detection reduces delays due to bad weather.
Radar Altimeter
New design reduces obsolescence issues
Low probability of intercept/detection
Integrates with CAAS cockpit
MIL-STD 1553, ARINC 429 or analog
Twice the reliability of alternative systems
Emergency Locator Transmitter (ELT)
Portable Survival Emergency Locator Transponder
Automatic activation instantly upon immersion in water
12-year battery life service
Meets crash survivability requirements of FAA TSO C91a, TSO C126/TSO-126A
Health Usage Monitoring System
Condition-based maintenance system that supports rotor track and balance and vibration/ health monitoring of critical aircraft rotating components
Enhances safety, increases availability, and reduces man hour and parts cost
Smaller size, weight, and power consumption
More memory, smaller data file size, and variety of transfer methods
Easier data analysis and management
Honeywell is currently the HUMS provider for Special Operations MH-60L/M, US Coast Guard MH-60T, and USAF HH-60 fleets
Universal Search Light
Fully integrated dual mode search light – solid-state laser diodes boosts infrared performance to an unprecedented 80 NRI
Sealed actuation mechanism protects gears, ensuring a longer life span and reduced maintenance costs for operators
Water resistant to 2 ft. depth
60 kVA Generator
33% more power with minimum aircraft modifications
Drop-in replacement with the same proven performance and reliability as existing 45kVA system
Embedded GPS/INS
Self contained, all-attitude, tightly coupled navigation system that meets the most challenging military requirements and DO178/254 Level A civil interoperability capabilities
Air Turbine Starter Upgrade
Enables higher reliability with >4,000 hours MTBF
Drop-in replacement with no modifications required
Sky Connect Tracker 3 Advanced
Iridium based SATCOM system for tracking, texting and telephone
New support for Iridium Push-to-Talk service and cellular data service for Flight Data Monitoring
Aspire 200
HDR software upgrade used to enhance Inmarsat L-band services
SwiftBroadband channels provide up to 650 Kbps per channel
36-150 APU
Higher reliability design to ensure power when you and less maintenance
20 variations flying on military and commercial aircraft
LED DUAL-MODE RED/IR ANTI-COLLISION LIGHT
The LED Upper/Lower Anti-Collision Lights (Dual Mode) are designed to replace the Xenon Anti-Collision Lights on the UH-60
Drop-in installation (Note: electrical change to +28VDC).
Provides aircraft safety and recognition.
Reduces operator costs
LED DUAL-MODE RED/IR ANTI-COLLISION LIGHT
Let's Talk About Your Mission Requirements.