/content/aerobt/us/en/search.html
Your browser is not supported.
For the best experience, please access this site using the latest version of the following browsers:
Close This Window
By closing this window you acknowledge that your experience on this website may be degraded.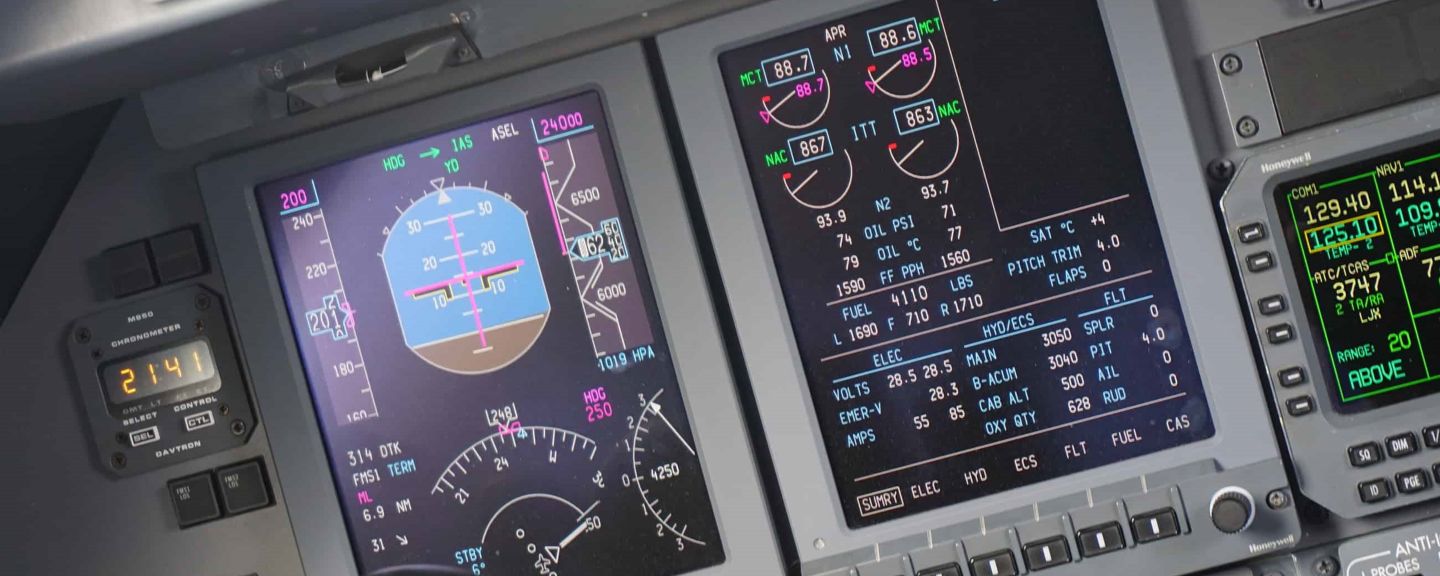 Trade in the old DU-870s with DU-875s. Now made easier with VSE Aviation
Honeywell and VSE Aviation (Singapore) Pte Ltd have inked a strategic deal to become the newest global distributor for the Primus Elite DU-875 LCD Display Units. This non-exclusive agreement, effective immediately, enables VSE Aviation to hold DU-875 display units in stock, and work closely Honeywell Authorized Avionics Dealers to provide quicker turnaround times and further enhance the customer experience related to these display units.
VSE Aviation are also our distributor for JetWave (Ka Band) Satcom equipment and Laseref IV (IRU's) equipment covering the business aviation segment.
The DU-875 Display unit with modern liquid crystal display (LCD) is a drop-in replacement for the older cathode ray tube (CRT) based DU-870 models allowing less downtime for the installation.
The newer displays bring brighter, clearer, higher resolution pictures that help reduce pilot workload and fatigue. The DU-875's are lighter (saving nearly 8lbs per display), run cooler (creating a more comfortable cockpit), have increased reliability (2x MTBF) contributing to a lower cost of operation and maintenance, and as the legacy display format is retained no additional pilot training is required.
A Honeywell Sales Bulletin trade-in program with significant savings continues. This is designed to help you provide the best value to your customers. Please refer to the Honeywell Sales Bulletin 2020-19 titled, "DU-875 LCD Display Unit Upgrades for All Platforms".
There is also the opportunity to subscribe or re-subscribe to MSP-A and receive a free year's subscription. This combined with the trade-in offer are designed to save owners/operators about $200k on a Learjet 40/45 with 4x DU's. An aircraft with more DU's will see a further substantial savings.
Investing in the DU-875 LCD screens enables you to future-proof your aircraft for the long term. There are three stages of upgrades starting with the display units itself.
Unlike the DU-870, the DU-875 can be further upgraded with the Primus Elite Enhanced Features (PEEF) and the Primus Elite Advance Features (PEAF) to boost your customers' aircraft value (documented in the Aircraft Blue Book). These features also allow more efficient operations and give pilots less workload, more intuitive displays for better flight awareness and safety.
Then, there's Primus Elite Enhanced Features that includes:
Electronic display of Jeppesen charts and maps
Video display capabilities Optional XM graphical weather overlays (USA)Advanced data loading with wireless option
Cursor control interface
Incentives on Honeywell Maintenance Service Plan – Avionics (MSP-A). Formerly known as Honeywell Avionics Protection Plan (HAPP)
Finally, for a flight experience with added safety and awareness, customers can opt to install the Primus Elite Advanced Features that includes:
Primus Elite Enhanced Features functionality plus…
Honeywell's Synthethic Vision System (SVS) for 3D Maps
IntuVue weather radar interface
TCAS overlays
Advanced map displays
For more information, please fill up the form with your details so we can help answer any queries you may have.